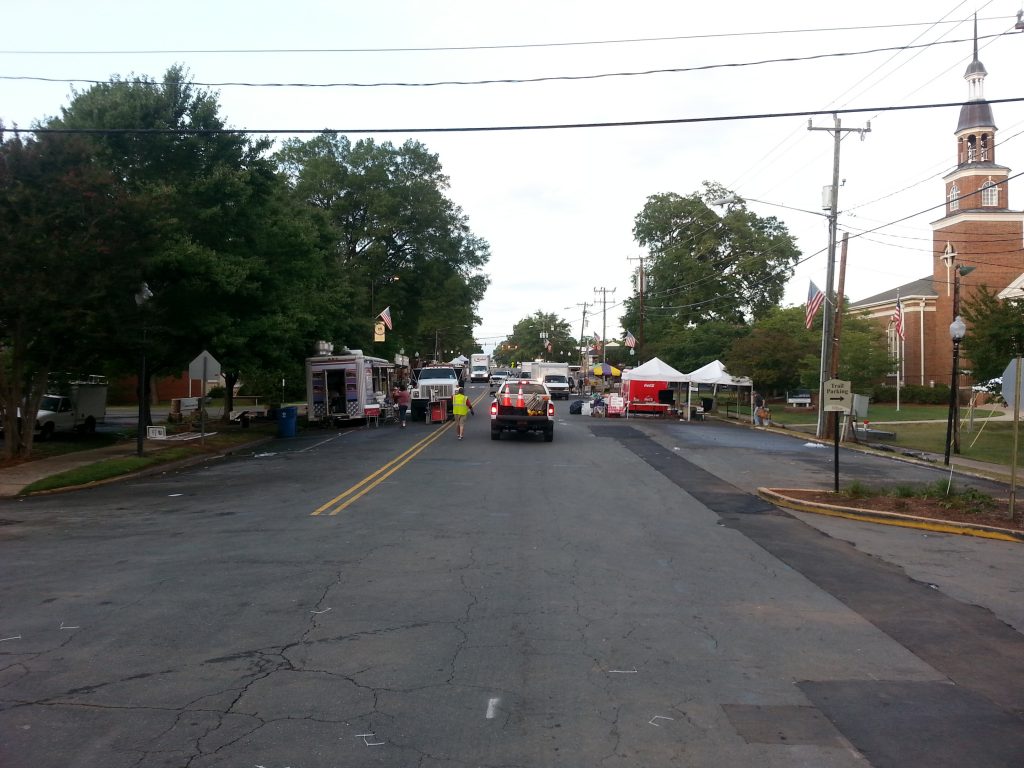 Matthews, NC Street Closures Over Labor Day Weekend
The Town of Matthews has worked with Matthews Alive organizers to ensure participant safety and efficient traffic flow over the Labor Day holiday weekend.  To do this, the Town of Matthews will close local roads on the following schedule:
Friday of Labor Day Weekend:
South Trade Street will be closed at 9 a.m. FRIDAY MORNING, from John Street to McDowell Street, extending to Main Street at 5 p.m. The closure will allow safe setup and opening of the festival. This section of Trade Street will reopen by

11 p.m.

 on 

Monday,

 after tear down operations are complete.
Motorists are encouraged to follow posted detour signs along N.C. 51 and Fullwood Lane around the Festival site.
Residents with driveways connected to the closed sections of South Trade Street will have access with assistance from Matthews Police.
Saturday of Labor Day Weekend

:
The Matthews Alive Parade route will also require several closures from 9:30 a.m. to 12 p.m.
Matthews Mint-Hill Road to be closed at 7:30 a.m. for parade staging.
All streets affected by the parade route (with the exception of South Trade Street) will reopen by

12 p.m.

at the parade's conclusion.
South Trade Street will remain closed, from John Street to Main Street, for the remainder of the Festival.
Monday of Labor Day Weekend:
The Matthews Kiwanis 5K race will require periodic partial road closures from 7:30 to 8:30 a.m. for the safety of race participants. Travel lane and intersection closures will occur intermittently throughout the race in areas designated by Matthews Police when necessary. Every effort will be made to minimize disruptions to vehicular traffic while maintaining safety for runners.
About Matthews Alive
Matthews Alive is an annual four-day family festival over Labor Day weekend in Downtown Matthews.  All concerts are free. The Matthews Alive Festival also has a large arts and crafts area made up of over 160 regional artisans, a Family Fun Zone with rides, games and amusements, the Kids Connection with crafts, ponies and train rides, a wide array of food vendors, the Southeast's Largest Labor Day Parade, and much more!  The festival attracts more than 150,000 attendees each year and continues to grow.